EXCITING DINING ROOM AND SALON UPDATES
31 March 2021
by Sam Baum, Community Relations Director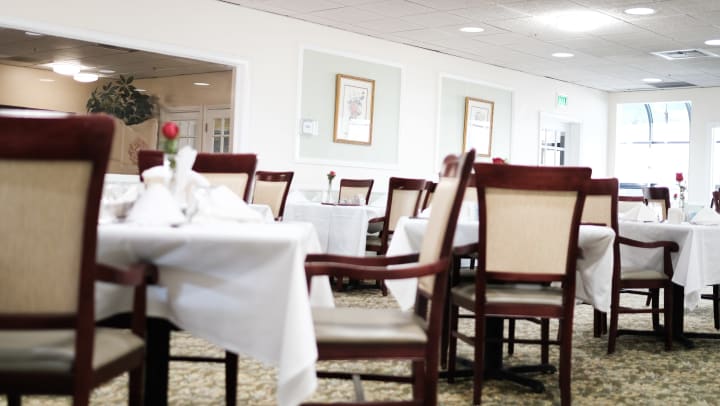 Dear Terraces families and friends-
I have some very exciting news to share! Tomorrow, April 1, we will be opening the dining room again, with specific guidelines in place to ensure your loved ones' safety:
We will start with dinner only. There will be two seatings; 4:00-4:45 and 5:15-6:00.
Initially, we are only seating 40 residents per mealtime.
Only two residents per table for now.
Residents must wear masks upon entry into the dining room.
The dessert and salad bars and trips to the soda fountain have been eliminated. Those items will be served by our servers on request.
The dining room will close promptly at 4:45 so staff can sanitize, clean and set up for the 5:15 seating.
Socializing from table to table is discouraged for now.
No guests until further notice.
Assisted Living and Safe Haven residents will dine in their respective dining rooms going forward.
Breakfast and lunch will continue to be delivered to the apartments.
On April 15, we will begin seating for lunch. Again, seatings will be limited to 40 residents. The seating times for lunch will be 11:15-12:00 and 12:15-1:00.
Breakfast will continue to be delivered to the apartments.
On May 1, the dining room will fully reopen with no restrictions for all three meals.
I also want to announce that the hair salon is open again. Only one resident at a time is allowed in the salon and we will be employing the electrostatic fogger before and after every appointment in continuance of the strict sanitization protocols we have followed to keep our residents and staff as safe as possible over the last year.
Of course, the loosening of restrictions will be discontinued if any staff or resident test positive, so we urge you and your loved ones to continue to be vigilant outside the community by wearing masks, maintaining social distance when visiting the doctor or any other place of business and avoiding large gatherings.
It's been a long haul and we are all blessed that we made it to this point with as minimal impact as we could have hoped for. Thank you so much for your patience and support as we have navigated these very difficult waters together.
Sam Baum
Community Relations Director
The Terraces
at Park Marino
2587 E. Washington Blvd.
Pasadena, CA 91107
Office Hours
Monday - Sunday: 9:00am - 5:00pm
Tel. (626) 798-6753