Dining and Activities Updates
12 April 2021
by Sam Baum, Community Relations Director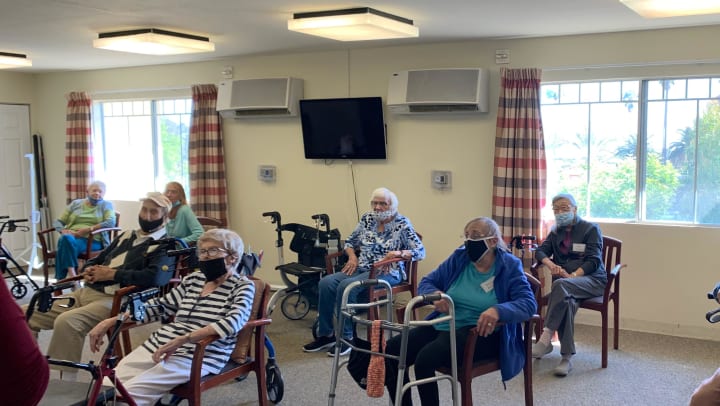 Dear Terraces families and friends-
I hope you're all enjoying this beautiful spring and starting to feel a return to some kind of pre-COVID normalcy.
Your loved ones are thrilled to be back in the dining room for dinner and it's so nice for us to see them breaking bread and socializing again. For me personally, on the night of our re-Grand Opening, I got genuinely emotional as I saw the tables fill up in a scene that felt almost nostalgic.
On April 15 the dining room will be open for lunch and on May 1, we'll be open for all three meals!
For over a year, our amazing kitchen and dining staff have prepared and delivered three meals a day free of charge. After May 1, we will be reinstating the tray service charge of $7.00. As always, complimentary tray service is available under certain circumstances; if a resident is sick, injured, recovering from a medical event, etc. Additionally, if a resident requires an escort to the dining room, please know that will be added to the care plan, as it was before the pandemic.
Akira works so hard to create new, out of the box programming for your loved ones and this month is no different. On April 15, she will be holding the first meeting of our Poetry Club, where residents can bring samples of their own work, create new work or just share a poem that is especially meaningful to them.
She's also planned an Academy Awards Bash for April 30 that will be so much fun! All residents will receive an "Oscar" and we are encouraging them to dress up and walk the red carpet. If you have a tux or your mom's favorite evening dress, please feel free to drop it off. Costume jewelry, wigs or any other fashion statement that would make this fun are welcome.
We look forward to the day that you can join your loved ones for all the special events you joined us for in the past. However, our mantra is safety first. With the uncertainty of the new variants, we can't be too careful. You will be the first to know when the day comes!
In the meantime, have a beautiful weekend and, as always, let us know if there's anything we can do. Our doors, phones and hearts are open to all of you!
Sam Baum
Community Relations Director
The Terraces
at Park Marino
2587 E. Washington Blvd.
Pasadena, CA 91107
Office Hours
Monday - Sunday: 9:00am - 5:00pm
Tel. (626) 798-6753