THANKSGIVING GREETINGS AND IMPORTANT MISCELLANEOUS
22 November 2021
by Sam Baum, Community Relations Director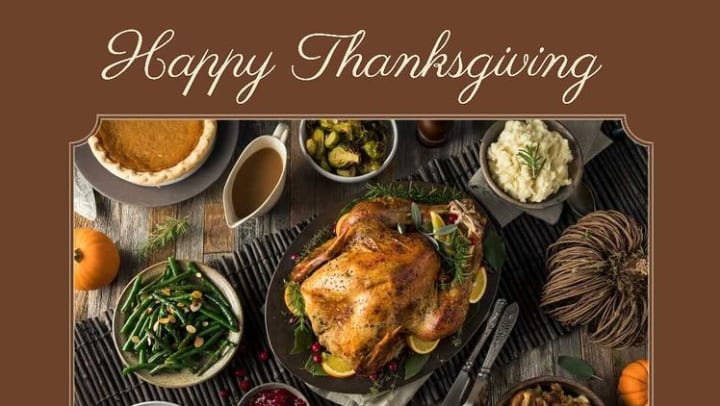 THANKSGIVING GREETINGS AND IMPORTANT MISCELLANEOUS
Dear Terraces families and friends-
First of all, I want to let you know how we'll be celebrating Thanksgiving Day at the Terraces.
We will be serving Thanksgiving "dinner" during lunchtime, between 11:30-1, after which the dining room will be closed for the day to allow dining staff to spend Thanksgiving with their families. We strongly believe in—and promote—work/life balance for our hard working team members.
We will be providing Box meals for dinner, which we have asked the residents to order from the front desk by the end of the day on Wednesday, November 24. The front desk can let them (or you) know what the selections are when they order.
Your loved ones also may be spending the day with you. If that's the case, we've asked residents (and are asking you) to let us know by Monday morning, November 22 so that we can get an accurate headcount for our dining room.
Additionally, up to three family members can join their loved one for "dinner" here at the community. If you choose this option, please be aware that you will have to dine in the apartment. We hope to return to pre-Covid rules someday, but, in an effort to keep your loved ones and staff safe, we want to get through the winter before we start to consider such changes. And, in that vein, no children under 5 are allowed in the building at this time.
Non-vaccinated family members are not allowed in the building, but can dine on the dining terrace. There will only be seating for 12, so if you are not vaccinated and would like to join your loved one, please make your reservation quickly. All reservations—regardless of vaccination status— must be made by Monday morning, November 22.
Generally speaking, over the Holidays, I want to share some insights designed to keep your loved ones safe. If they will be visiting your homes, please try to practice social distancing to the extent possible. Please wear masks to minimize the likelihood that a resident will "Trojan Horse" the virus back into the community. Please keep hand sanitizer for all guests readily available. And, finally, please be mindful of trip and fall hazards. Area rugs, runners, stairs, cords, pets and other environmental factors can contribute to a potentially devastating fall.
An important note, particularly for our Safe Haven families; please do not bring real poinsettias into the building. As you may or may not know, they can be toxic if consumed or touched. Exposure can cause skin rash, stomach ache, vomiting and eye irritation, among other potential reactions.
As you probably know, employees are not allowed to accept gratuities or gifts from residents or family members. On behalf of the Terrace's Resident Council, I want to remind you that now is the time of year to express your gratitude for all they do by making a donation to the Employee Holiday Fund. This fund is administered by the Resident Council. You are by no means obligated to donate anything.
Finally, we want to wish you all a wonderful, bountiful, beautiful Thanksgiving holiday! Life is not always easy, but there's always something to be thankful for grateful for. I hope you take time on Thanksgiving to live in gratitude and feel at peace. As for me, one thing I'll be sharing at my family's table, is how thankful I am to be a part of the Terraces' family. Coworkers, staff and all of you make my professional life a thing of joy! I couldn't be more grateful.
Love,
Sam Baum
Community Relations Director
The Terraces
at Park Marino
2587 E. Washington Blvd.
Pasadena, CA 91107
Office Hours
Monday - Sunday: 9:00am - 5:00pm
Tel. (626) 798-6753