EXCITING DEVELOPMENTS
06 March 2021
by Sam Baum, Community Relations Director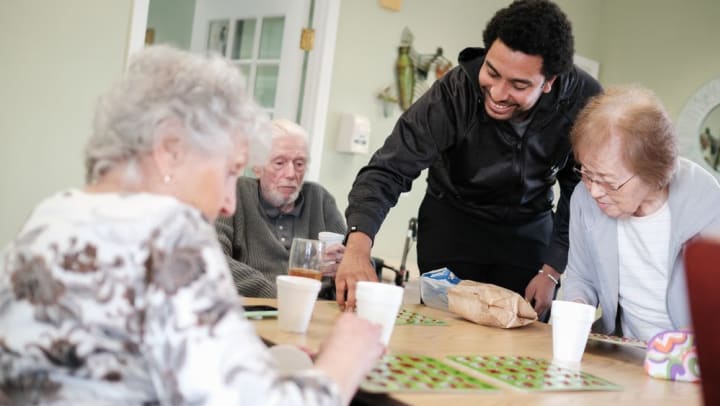 Dear Terraces Families and Friends-
While we are anxiously awaiting more substantial milestones, I've been looking forward to sending this news to you for a long time.
Based on guidance from the LA County Department of Public Health, we are able to loosen some substantial restrictions.
First of all—and most significant to you and your loved ones— we are reinstituting family courtyard visits. Some of the rules have changed:
1) All visits must be scheduled with Sammie Dauphine. She can be reached by calling the front desk Sunday-Thursday at 626-798-6753. You can start calling on Monday, March 1 to start scheduling visits.
2) Standard screening protocols will be observed for all visits. Please stop at the front desk before your visit to have your temperature and blood oxygen levels checked.
3) Initially, visitation appointments will be limited to 9am, 11am, 1:15pm and 2:30pm. We hope to be able to provide more time slots in the future.
4) Visits are limited to 30 minutes per visit.
5) Only two visitors are allowed per resident, per visit .
6) We can accommodate two families per time slot.
7) No one under the age of 18 is allowed to visit at this time.
8) For us to be able to accommodate all requests, we ask you to be on time for your visits. If you're late, those minutes will count towards your visit time.
9) If you're exceedingly late, you will have to reschedule.
10) Visits are supervised from afar for safety purposes.
11) No food  or pets allowed.
Next, residents who have received both doses of the vaccine, no longer have to quarantine after returning from a medical appointment. However, if through contact tracing it is determined that a resident may have been exposed outside the building, a 14 day quarantine will take effect.
Starting next week, we will begin surveillance testing, which means we will test 25% of randomly chosen staff per week until all staff have been tested and 10% of all residents per week in the same manner.
We will only provide COVID updates if there is anything new to report.
Finally, live entertainment will be returning. We hope to bring back our Friday Happy Hours the first week of March.
It's been a long haul,  but we are hopeful that this is the beginning of the road back to normalcy. Thank you so much for your patience and support as we have navigated these very difficult waters together.
Warmly,
Sam Baum
Community Relations Director
The Terraces
at Park Marino
2587 E. Washington Blvd.
Pasadena, CA 91107
Office Hours
Monday - Sunday: 9:00am - 5:00pm
Tel. (626) 798-6753